Introducing RAIS' New Normal Procedures
 July 1st, 2020
 Dear Parents:
 Subject: Introducing RAIS' New Normal Procedures
Greetings from RAIS! We hope that this letter will find you safe and in good health. We are pleased to let you know that we have done most of the preparation to welcome our students back to school on the 7th of July 2020. The school administration together with the faculty and staff are doing everything possible to make the school premises safe and sound for the students to resume their studies.
We all agree that COVID-19 has changed the way we live, work and learn. We encourage all to follow the New Normal procedures to be safe and to keep others safe.
On the 9th of June 2020 a delegation from the Ministry of Education visited and evaluated our safety measures to determine our readiness to open. We are happy to let you know that the officers commended our school for the precautionary and safety measures we have put in place. In the near future delegates from the Ministry of Public Health is also scheduled to visit our school. We have fulfilled all the guideline provided by the Ministry of Public Health for the safety of everyone in the school.
We would like to share with our parents and students the safety measures we have taken to protect everyone from COVID-19 and all other dreadful diseases. In preparation to reopen school we have done the following preparatory measures:
Assigned a COVID-19 Task Force comprising of 8 members.
Thorough cleaning and disinfection of all classrooms and the school compound.
Painting of classrooms and re-carpeting to improve cleanliness.
Installing air purifiers in every classroom.
Replacing malfunctioning air conditioners throughout the school.
Installing a thermal scanner.
Installing foot disinfectant system.
Introducing a mandatory temperature check system, log book, and check in through the Thai Chana App upon entry for every visitor.
Arranging classrooms seating, lunch area, and play area for safe social distancing.
Expanded the cafeteria for healthy social distancing.
Expanded and renovated the middle and high school clinic and increased the holding capacity.
Minimized the possibility of contamination by limiting of people to the school premises.
We also have put in operational measures so that our school will be very safe for our students to learn. We expect all our parents and visitors to oblige in following the operational measures. Your compliance to the operational safety measures will ensure the safety of our students.
General COVID-19 Protective Measures
ENTERING THE SCHOOL
Upon entering the school each person will be expected to be wearing a mask, will have their temperature checked, alcohol applied to their hands, and they will walk through anti-COVID-19 floor mat that will disinfect shoes.
–  Dropping off Your Child
There are three drop-off areas. The first (drop-off #1) is for parents and guardians that wish to drop off their child outside of the school, and from here students will walk into the school to be scanned outside RAISSTA. The second (drop-off #2) for nursery, preschool, elementary school, and EFL is next to the playground between building B and the elementary school green court. There will be a thermal scanner placed in building B to cater to the large number of students that arrive there. The third (drop-off #3) for middle and high school students is between building C. Please refer to the attached COVID-19 Scan Map to know where to drop of your child.
–  Picking up your Child
In accordance with the directives from the Government of Thailand, we have adapted the procedures on picking up children at RAIS. When picking up your child, please follow the directions below to aid in the protection again COVID-19.
Please support the school's efforts in protecting against COVID-19 by wearing a mask while in the campus.
When arriving and leaving the school, please sign in and out using the Thai Chana App.
Preschool and Grade 1 parents can have their temperatures checked and then proceed to the classrooms to pick up their child/children.
Cars are only allowed to come into the campus to pick up students during the times below:
–  Mondays, Tuesdays, and Wednesdays
   3:30 pm – 5:00 pm –  Thursdays and Fridays
   3:00 pm – 5:00 pm 
For everyone's safety, during the day, we encourage all parents to not park in the school, and as much as possible, not be in the campus unless necessary. If there are delays in picking up students, or for any other reason, please inform the front office of your license-plate, so the school's security can be made aware.
We request that only visitors and parents with prior appointments remain in the campus during the day to help reduce contact in the school.
If parents arrive before the end of school, they may wait in RAISSTA.
Once parents have picked up their child, please promptly leave the school to reduce physical contact.
*These policies will change as the Government of Thailand reduces its measures on the country.
S.W.A.T (Sanitize, Wear a Mask, Apply Physical Distancing, Temperature Check)
As you enter the school, you will see posters posted throughout the grounds. These are to inform all stakeholders of vital information regarding precautions needed for the prevention of COVID-19. These posters are aimed at the areas below. These posters have been attached for your attention.
Please click the following for details.
S.W.A.T
Wearing a Mask
Handwashing
Social Distancing
Respiratory Hygiene
These posters have all been attached for your attention.
DEPARTMENTAL MEASURES
All departments of the school have specific measures to protect themselves and anyone they will have contact with. These have been detailed in the Departmental Measures. These include measures for the departments detailed below.
Finance
Public Relation
Student Supervision
School Vans
Cafeteria
Maintenance
Clinic
Teachers
Housekeeping
Library
NEW RAPTORS COMMON ROOM
Despite the challenges facing all of us, RAIS has decided to invent in a common room for the students. The art room has been relocated to building D2. This is to make way for the new Raptors Common Room. This area will be for the students of RAIS to go and relax, meet with friends. This will also serve as an expanded cafeteria.
NURSES
–  Health Monitoring
The nurses will be monitoring the health of the students closely, and if any student is suspected of being at risk, their parents will be contacted and if necessary, the recommendation to seek medical attention will be made.
–  Videos
The nurses have been very busy making videos while the students have been at home. There have been posted on the school's YouTube channel, and links to these will be posted outside each of the nurse rooms.
Please click below for a link to each of the videos.
–  Healthcare and Nurse Room
The nurse room in building E will be expanded to cater to the new situation. This new nurse's room will include more beds and more space to meets the new normal needs COVID-19 has given us. There are also designated quarantine areas that will be made available to suit the students as and when needed.
–  Home Care
The school requests that parents regularly check their child's health, and if they show any cold or flu symptoms, please keep them at home and they will be able to study online until they are in good health.
CAFETERIA
The tables in the cafeteria will be arranged to make sure social distancing rules apply to all. Students will be encouraged to bring their own spoons, forks, and water bottles to reduce shared materials. The Raptors Common Room will also be able to cater to any students that wish to eat there.
CLASSROOM SETTING
To adequately protect the students while in the classrooms, the below measures will be taken:
There will be hand gel/alcohol at the entrance to each classroom.
Seating will be suitably distanced.
Students will be encouraged to all wear masks.
The schedule will be adapted to included ventilation, handwashing and breaks.
Students will be prohibited from sharing items with each other in the classroom.
Students will be encouraged to bring their own water bottles to the school.
ACTIITY CLASSES
–  Art
All equipment and surfaces will be cleaned before and after each class. If students bring any materials to the school, they must make sure they're cleaned and cannot share with other students.
–  PE
The school has revised the curriculum to for sports that are in line with the MOE recommended measures. The sport that will be focused on during the opening weeks will be badminton. Students will be kept at a suitable distance will performing activities. Students will be discouraged from playing team sports during breaks and after school. These measure and activities will change and adjust as the government slowly allows a relaxation of precautions.
–  Thai
The Thai classes will be adapted to allow adequate social distancing, so there will be changes in the curriculum and some students may be moved into different classes. There will no longer be beginner, intermediate, and advanced classes. Instead, classrooms will be evenly distributed for each grade, and the students will move together to the next grade.
–  Music
The curriculum for music will be adapted to avoid the use of instruments that best help proceed the students. This will mean wind instruments and singing may be moved forward in the year. All instruments will be cleaned before and after use.
CO-CURRICULAR ACTIVITIES
The co-curricular activities will be all kept to a minimum, and where possible, videos will be made and shared with students in the classrooms. In July, there will be no chapel programs, and no ISAA competitions will take place in the first semester. All the programs that were missed during the time the school was closed will be brought into the next school year, and they will also be adapted to allow for social distancing.
AFTER SCHOOL PROGRAM
In July, the teachers will all be available until 4pm to aid in the completion of any missing work from the online programs. This time can be used to complete missing work and to redo any work you may have not understood completely during the online period.
TRAVEL HISTORY
It is vital that all parents and students disclose their travel information if they have visited any at-risk countries as self-quarantine may be necessary. It is expected that all parents and students furnish the information required in the attached form to ensure the safety of everyone. RAIS requests that this be a norm from now until the situation normalizes. We humbly request that when plans are made to visit another country, you inform the school as to where you plan to go. Please print and submit the attached form.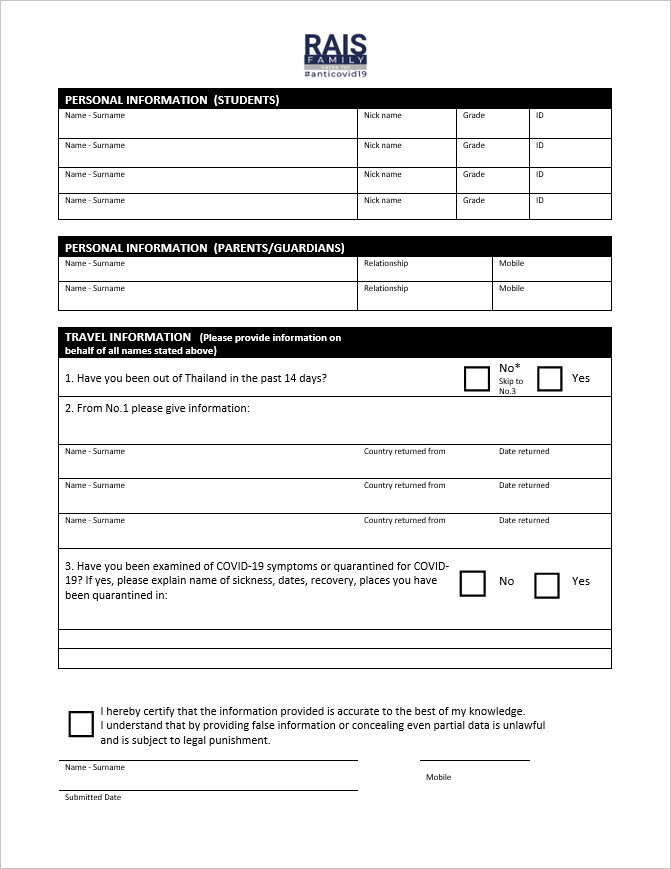 STUDENTS ABROAD
For the students that cannot attend the school for reasons out of their control such as the lack of flights, etc. please contact your section head and your teachers, and they will work with you to aid in the completion of missing work and to help redo any work you wish to improve on from the online period.
THE GUIDANCE DEPARTMENT
This year will be a very challenging year for everyone. To ensure the wellbeing of our students, parents, teachers and staffs, the guidance department will work on how to be of help in easing the difficulties and challenges that everyone is facing.
Considering COVID-19, the guidance department's programs and activities for School Year 2020-2021 will focus on the following:
Guidance and counselling in a holistic approach in school or online setup (individual, group and family)
Guidance club information dissemination (emotional, social and psychological adjustment to the new normal)
Guidance classes: Topics are: Responsible use of social media and its laws, reproductive health and hygiene, career orientation, anxiety and depression intervention, sex education for MS and HS
Anti -bullying squad campaign: social isolation, physical distancing, social acceptance, being good friends, overcoming challenges and depression
Outreach activities: modified outreach activities (details will be sent home prior to the scheduled activity)
Parent conferences and meetings (school counselors are open to discuss to all parents of any concerns they like to discuss in person or online)
Academic and nonacademic support (in class and after class help).
Special needs education program (SEN) accommodating and helping students with special differentiated needs through inclusive programs with integration of new normal routine.
Parent orientation through video presentations
Teachers and staff' Mental health and wellbeing programs
Note: The guidance department work closely with parents, teachers and administration towards achieving maximum success of each student.
Any concern please feel free to contact us:
Mrs. Veverly- Head of Guidance Department – (mrs. veverly@rais.ac.th)
Mrs. Hoihnu – School Counselor – (mrs.nula@rais.ac.th)
Guidance Department – (counselor@rais.ac.th)
Telephone number- 02370-0316-7 extension 324,262.
SONGKRAN
Due to the directives from the Ministry of Education of Thailand, the Thai Government will be adding days of holiday to dates in the upcoming year. As RAIS has made allowances for this during April 2020, the school will continue as normal on these dates. If you wish to take these dates as holidays, you are welcome to, but if not, the school will be open, and your child/children may attend the classes.
ORIENTATIONS
At the beginning of each year, the different departments give an orientation to what can be expected from their department. In accordance with the New Normal Procedures, these will come in the form of videos that will be shared on the school website, school Facebook, and YouTube channels. If a meeting with the Principal, Section head, guidance counselor, or teacher is needed, this will be arranged through an online meeting platform.
If you have any concerns regarding anything mentioned in this letter or anything at all regarding the school, please do not hesitate to contact the head of the section your child is in and/or me directly.
Mr. Peter, Principle of RAIS – (munasinghep@yahoo.com)
Mrs. Sophia, Head Preschool, EFL, & Elementary School – (eshead@rais.ac.th)
Mr. Francis, Head Middle school & Activity and Support Programs – (mr.francis@rais.ac.th)
Mr. Annand, Head, High School – (anand@rais.ac.th)
In conclusion, I would like to state that RAIS has taken measures to ensure the safety of every student and everyone at school. It is our hope and prayer that you are safe and enjoying good health. We pray that God will bless and keep you from every harm and danger. We appreciate the help of all our parents in ensuring the safety of our children by supporting the New Normal procedures. We wish you happiness, peace and prosperity.
May you be blessed in all your endeavors.
With kind regards,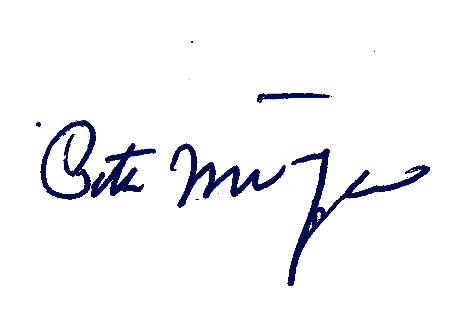 Peter Munasinghe
Principal
What can we help you find?