RAIS provides school van services and experienced drivers to shuttle students from their home to school. The service is provided in the mornings and in the afternoons. To avail these services, kindly inform our Information Center personnel.
Proper Passenger Behavior:
It is important that all passengers on the school van understand and demonstrate proper passenger behavior:
Be prompt at the pickup point (be ready at least 10 minutes before pickup time at the assigned pickup point).
Please wait until the van has stopped before entering. Wait until the driver signals before entering the van.
Upon entering the van, please take a seat promptly and remain seated till the van reaches RAIS/home
Practice cleanliness by not littering or throwing any object(s) inside and outside the van.
Wait for the driver's signal to get out the van at the designated stop.
Be courteous to others. Always obey the van driver and follow the rules from proper passenger behavior. Also, remember to thank the diver and his assistant a good day.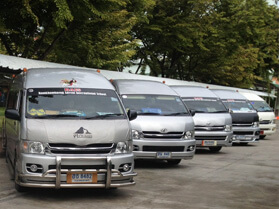 Notice to Parents:
Please remind your child that the school van will leave RAIS premises 30 minutes after the end of the school day (Monday – Wednesday = 2:40pm, Thursday and Friday = 1:55 pm).
All school vans have van assistant (nannies) to take care of its passengers.
Pricing for RAIS van service is based on distance. Please inquire with the RAIS PR department for the pricing structure.
For Parents dropping off and picking up their child
In order to ensure student safety, while dropping off or picking up students by car, vehicles should stop in front of the school gate. Security personnel is on hand to help your child. If any parent does not wish to wait in the vehicle queue, please park your vehicle at the Big C parking lot and escort your child to school.
Contact Finance Manager
finance@rais.ac.th
What can we help you find ?