HEALTH CLINIC SERVICES
The Health Clinic is staff with a qualified, registered nurse who provides evaluation, treatment, and basic first-aid for acute health problems occurring during the course of the school day. This service is available to all students from K-12 and teachers and staff.
The health clinic hours are 7:00 AM until 4:00 PM Monday through Friday, except during lunch hours.
Bldg B health clinic is closed from 11:40am – 12:25pm
Bldg E health clinic is closed from 12: 25pm – 1:05pm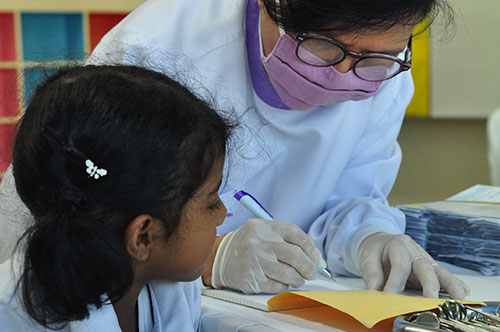 POLICIES AND PROCEDURES
Accidents & Hospitalization
In case of accidents or major sustained injuries within school premises, the school takes the responsibility of taking the student to the hospital after informing the parents. If parents are not reached, the school reserves the right to decide which hospital to take the student for treatment or hospitalization. To be eligible for medical insurance, the student must present his school ID, along with the accident insurance card, to the hospital.
Health Clinic Pass
Students are required to present a Health Clinic Pass signed by a teacher or administrator when entering the clinic, except in cases of emergency.
Accident Insurance
Each student is covered by accident insurance and cards are kept by the school nurse and are used only in case of accidents which may happen in school or in any school-related activities.
In-Patient Use
The Health Clinic only allows those who are sick or ill to rest in the room for a period of time. Patients who are seriously sick are advised to go home with their parents. Everyone who enters the clinic is expected to be quiet. Consistent visits to the clinic without valid reason will be dealt with accordingly.
Medical Certificates
A medical certificate confirming restored health is required of students who have contracted a contagious disease, upon returning to school.
Prescription Medication
The School Nurse is not licensed to diagnose any sickness and administer medicine to sick students. The only medicines given to students are those prescribed by the student's doctor.
be indicated in their student health record.
Record Keeping
The Health Clinic keeps a record of services rendered to students, teachers, and staff. Therefore, any person who needs and receives medical attention from the health clinic needs to sign his/her name in the medical record form.
Teachers need to sign every time they need to use the travel first aids for outdoor trips like field trips, Pathfinder camps, and other activities.
For Asthmatic Students
If your child uses an inhaler for ASTHMA symptoms, please bring one to the clinic to have on hand during the school year. If your child is in the middle or high school, and would like to arrange to carry his/her inhaler, this should.
RULES
To maintain order in the clinic, it is necessary that we have established rules for the clinic. Respect of these rules is expected and appreciated.
The rules are as follows:
All students must have a clinic pass before coming to the clinic.
Only students feeling ill will be allowed to the clinic. Students staying longer or going home will be at the discretion of the School Nurse. Due to limited space, no student will be permitted to stay an entire period, unless deemed necessary by the School Nurse.
The clinic is not to be used for socializing.
Students not adhering to these rules will be asked to leave once and may be sent to the Principal.
Repeated visits to the clinic may be indicative of an attendance problem, and the Principal or School Counselor will be notified.
FOR PARENTS
Parents should inform the school nurse about the following:

When their child is taking home medication at school.
If their child has any drug allergies and name of the medicine.
If their child has congenital disease, or any special health problems.

Every effort is made to keep students in school if at all possible. However, in certain cases, parents or legal guardians are contacted and advised to take the child home when any of the following happens:

It is determined that your child is too ill to remain in school.
If their child's condition persists within 1 to 2 hours after home medication was given.
If the child has these symptoms: active vomiting or diarrhea, a fever of 37.8 oC or above, any condition that may be contagious, an injury or illness that requires further evaluation by a physician.

Parents are encouraged to provide their child with a face mask when their child has cough and colds to avoid contaminating other children.
No Results Found
The page you requested could not be found. Try refining your search, or use the navigation above to locate the post.
What can we help you find?