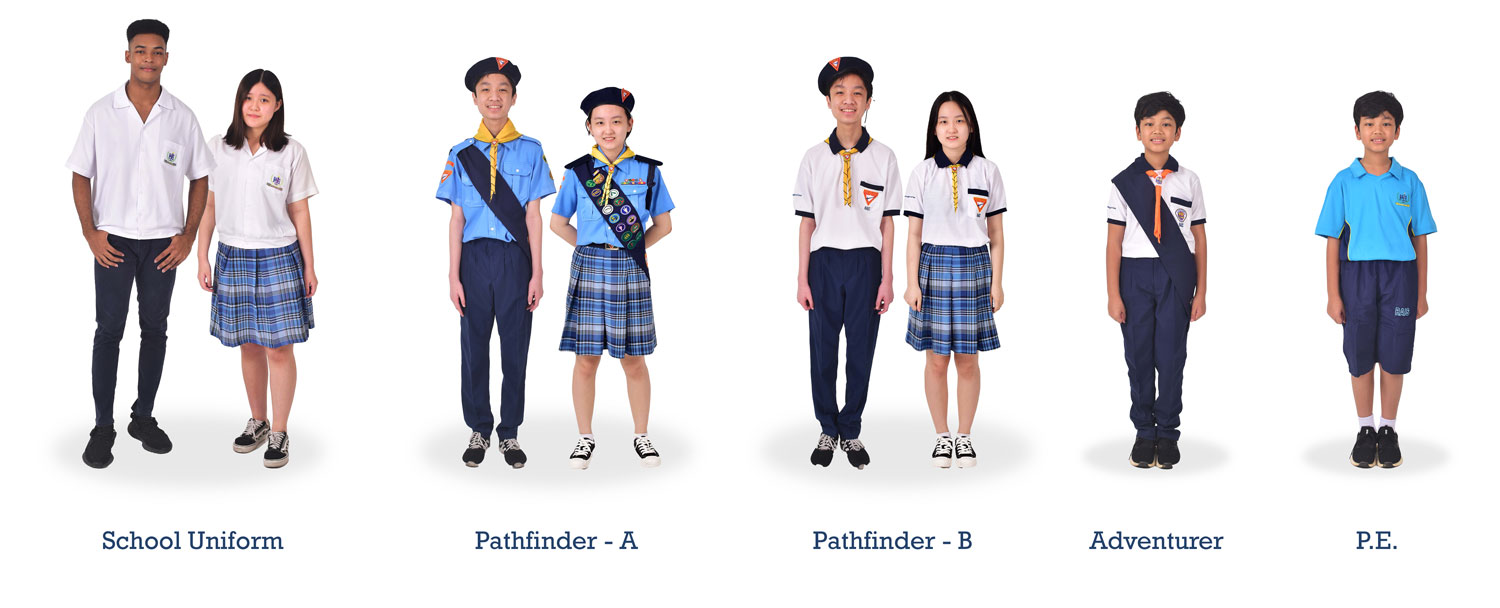 School Uniform
Shirts      : White with school logo/emblem.
Trousers : Navy blue. Over sized, baggy , or torn pants are not acceptable.
Skirts      : Blue checks with hem reaching at least the top of the knee. Hemlines should reach at least to top of the knee.
Shoes     : Black or white leather or tennis shoes; Elevated shoes, silppers,or sandals are not acceptable. ( Kindergarten black shoes only.)
Socks     : Black or white. Socks should be worn at all times. ( Kindergarten white socks only )
P.E. Uniform
Shirts : White golf shirt with school emblem; Shirt may be worn hanging loose.
Pants : Navy-blue.
Shoes: (as mentioned above) Kindergarten white sport shoes only.
Socks : (as mentioned above) Kindergarten white socks only.
RAIS uniform shirts, trousers, pants and skirts are available for purchase from the school store. If a student chooses to purchase skirts, trousers, or pants on their own, the shade, fabric and design must be the same as the uniform sold at school.
Hair styles and other Accessories
Students are encouraged to look decent and neat while in school. Faddish/punk hairstyles and hair dyes or heavy gels are not allowed.
Boys     : Hair must not touch the shirt collar or cover the face.
Girls      : Hair should be well-groomed and must not cover the face.
Jewelry : Jewelry, including rings, bracelets, amulets, necklaces, earrings, tongue rings, and fashionable decorative items, are not appropriate for school wear.
Hats      : Hats of any kind should not be worn.
Uniform Violations
When a student is not dressed according to the proper uniform code, a uniform violation notice will be issued. Students may be asked to go home and can only attend regular classes when in complete uniform. These notices will be filed in the Principal's office and may affect the student's citizenship grade.
Field Trips
Students go on an educational field trip once a semester. Below are the guidelines students need to remember.
The student must wear his/her school uniform.
The student must pay the field trip fees. Students who decide not to join in the trip are still required to pay. However, if a student is sick and is unable to go, he/she is excused and reimbursed upon the presentation of a medical certificate.
If a student is not joining the field trip, he/she needs to attend school. A special class assignment will be given to him/her.
If a student misbehaves during a trip, the parent will be contacted and asked to come and pick the child up at the site on the parent's own expenses.
If a student is involved in any criminal activity (victim or perpetrator) during the trip, the school and the parents will be notified immediately. Consequences will follow.
The school will provide chaperons to assist the homeroom teachers in supervising the students.
Parents are not allowed to join the trip. However, special consideration is given to parents of students from Kindergarten to Grade 2 with the condition that the parents travel and stay with the class.
A student may be refused to join the field trip when he/she fails to present to the teacher the consent slip from parents, or when certain academic standards are not met, or when he/she is under disciplinary action.
The student must follow rules and regulations set by the teacher to avoid untoward incidents.
What can we help you find?