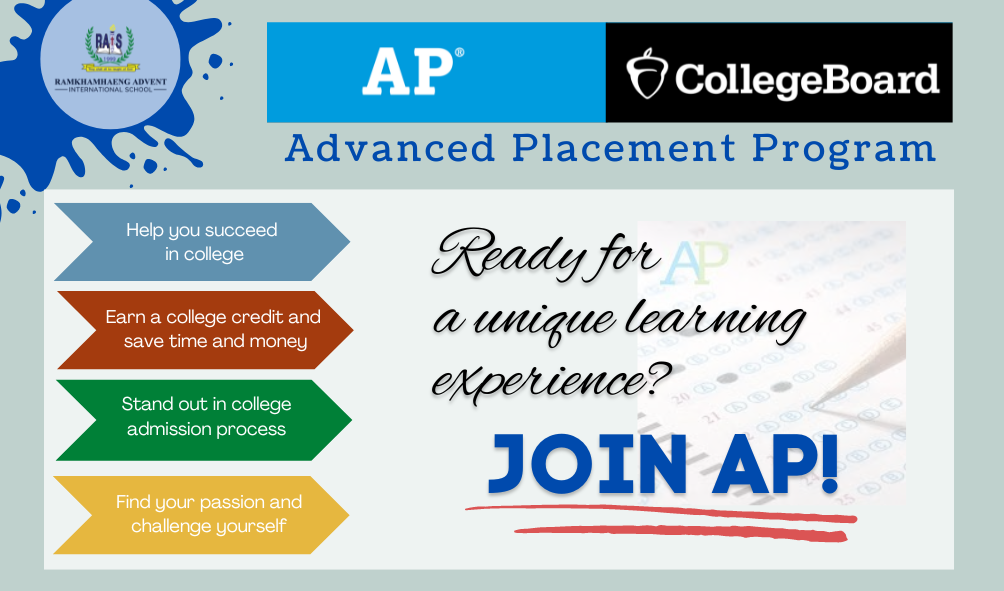 The AP program offers high school students the equivalent of first-year university study in a variety of areas. Individual courses go into great depth and thoroughly prepare students to take the external AP examination administered by the College Board of the United States. The exams are taken to earn either advanced standing or university credit in the USA, Canada, and many other countries. The program is highly regarded throughout North America and is the most common form of advanced study offered by high schools in the United States. Students applying to competitive schools in the US, Canada, or Australia should consider AP to be a necessary component in preparing for admission. 
The Advanced Placement program is designed to give students freedom in choosing courses that maximize their potential in selected subjects. At RAIS students may take up to 10 AP courses.
AP Course Selection at RAIS
AP Biology
AP Statistics
AP Chemistry
AP Calculus AB
AP Physics I: Algebra-Based
AP Macro Economics
AP Computer Science Principles
AP Human Geography
AP Microeconomics
AP Psychology
A course may be dropped if insufficient numbers of students register for it.
Admission to AP Courses
AP courses require long-term commitment from students. For this reason, students must demonstrate the following before being admitted to any AP courses:
A high level of motivation and good grades across most subject areas.
A high level of achievement in courses deemed prerequisite or cognate to the selected AP courses.
An understanding and acceptance of the increased homework demands.
Written parent approval.
A commitment to complete all course requirements, including external examinations. All students enrolled in AP courses should prepare to register for and sit the external exams. Payment for exams is considered part of the family's financial obligations; payment is due in last week of September and is non-refundable. Any student, who, for any reason, does not sit an AP exam, will be moved to RAIS non-AP subjects.
High School Grades
All courses taken at RAIS during high school are included in the calculation of a student's GPA. Grades for AP or Honors courses will be factored into the GPA using the AP or Honors scale.
The GPA will be calculated using the secondary grading scale. All high school courses are associated with either a Standard, Honors or AP (Advanced Placement) grading scale.
It is to be noted that any grades taken outside of RAIS, either online or a course transferred from another school will not be considered.
Percentage Value

Letter Grade

Standard Grade Point

Honors
Grade Point*

AP
Grade Point*

95 – 100

A

4.00

4.50

5.00

90 – 94

A-

3.70

4.20

4.70

87 – 89

B+

3.30

3.80

4.30

83 – 86

B

3.00

3.50

4.00

80 – 82

B-

2.70

3.20

3.70

75 – 79

C+

2.30

2.80

3.30

70 – 74

C

2.00

2.50

3.00

65 – 69

C-

1.70

2.20

2.70

60 – 64

D+

1.30

1.80

2.30

55 – 59

D

1.00

1.50

2.00

50 – 54

D-

0.70

1.20

1.70

00 – 49

F

0.00

0.50

1.00
A is assigned to work that demonstrates excellence and is clearly exceptional.
B represents work that is very good and shows signs of high achievement.
C represents satisfactory completion of all assignments.
D represents academic achievement at a minimum level. 
Grade Point Average (GPA) will be stated on semester report cards and transcripts. Students who enroll and take the exam will receive an additional 0.5 weightage for grades of C- and above on the GPA in recognition of the challenging nature of these courses, particularly in the assessment of student work. Students can calculate their semester GPA by converting all their letter grades to the corresponding numbers above, adding them together, and dividing by the number of credits. 
Note: Students who have registered for AP classes are still eligible for an RAIS Diploma, provided they complete all graduation requirements, regardless of their scores on AP external examinations. 
RAIS is registered as a center for AP exams for internal and external students 
To learn more about AP, please click on the links below:
For more information about RAIS Advanced Placement Program
contact mr.anand@rais.ac.th
What can we help you find?