School Year 2018 – 2019
All school fees must be paid in Thai : Baht
Daycare – Kindergarten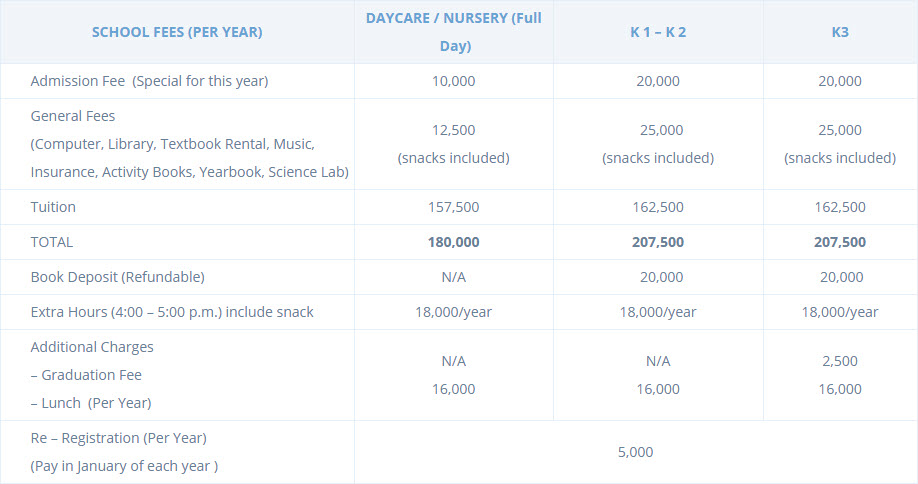 Grade 1 – Grade 12 and EFL
REFUND POLICY: (Tuition Only)
90% is refundable if withdrawal is done before school starts.
85% is refundable if withdrawal is made during the 1st week of school.
65% is refundable if withdrawal is made during the 2nd week of school.
No refund is given if withdrawal is made after the 2nd week of school.
*Please save your receipt and submit at the time of refund (10% deduction for the lost receipt)
ADMISSION FEE is non-refundable
RE- REGISTRATION FEE is non- refundable
GENERAL FEES is non-refundable
AP Test  is non-refundable
BOOK DEPOSIT is refundable
Lost textbook – 200% of the book price will be charged. 50% will be given when the lost book is found within 30 days after payment. If you do not pick up the refund within 30 days, your reimbursement will be cancelled.
Enrollment fees are paid in full upon registration (Registration Fee, General Fees, and Book Deposit). Tuition fees can be paid in two installments.
FORMS OF PAYMENT
Payments may be made in one of the three following ways.
Cashier check payable to "RAIS"
Credit card (2% service charge)
Cash deposit at the counter of any branch of the following 3 banks with invoice from the school.
• Bank of Ayudhya Public Company Limited
• Thanachart Bank
• Siam Commercial Bank
PERSONAL / CASHIER CHEQUE
If the cheque bounces, there is a fee charge of Baht 500 / time.
LATE PAYMENT
Late payment will be charged Baht 100 / day
*Tuition and conditions are subject to change without prior notice.
finance@rais.ac.th
What can we help you find?